What defines a great leader?
 In my country you could arrange marriages;                                                                        but you could never arrange love…
In my youth (technically I was not of an age that can be considered youth by any legitimate institution, but I was youthful in heart and in the bulk of my many insurance claim forms), I found myself astray in a minefield of emotions and, of course, a literal minefield. As it so happens the surviving members of my cavalry unit had chosen, under understandably stupid pretenses, that I was no longer fit for leadership and had chained me atop my faithful steed; Lesbonix.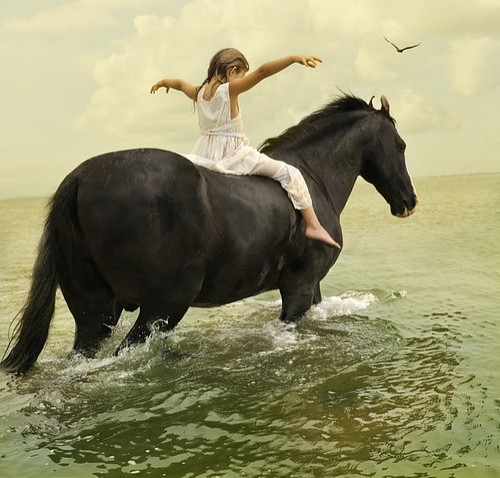 Together forever as long as I can remember since I stole her from a little girl today
My genius plan to charge the minefield with our entire unit was a stroke of genius on my part that I will take credit for, and the plan still would have worked if we just continued forth with our blitz. With 93% of our unit dead or presumed dead or trampled to death, my two surviving underlings and I where oh-but so close to the halfway point to victory and I couldn't help but froth with so much anticipation that I let my guard down for the slightest moment.
I don't know how they managed to subdue me; but if it involved me with a butter knife against rocket launchers in a close-combat battle to the awesome; I wouldn't be surprised. Not a chance that I was bucked off by Lesbonix and fell into a fetal position crying frantically and screaming for my spirit animal to come and save me in my hour of need as they laxly fascened my bindings.
                                                At least my spirit animal tries to heed my call
My two former underlings, yet they where still my underlings in every single possible metaphysical state (I was winning the mental battle, trust me on this one), where trying to find a way out of the field with my faithful map. Luckily the map was lavishly encrypted, meaning that our journey had been marked out by a skilled crayon encoder (myself) and I had cartographied my own map across all the pages of the coloring book. 
                                                Every road is a road to danger!
Their meek attempt at cartographacation had them looking at the fuzzy clown cross-word page (Eastern Portugal) by the time the killing blows where dealt. A sniper, the cowardly blowhard, struck the two betrayers of my peerfull leadership dead before I stopped trying to figure out how to tell Lesbonix to untie my bindings via subtle body vibrations and actually notice (and totally not freak out upon seeing the fucking crazy site of like, holy shit are those bodies I will never get back the insurance deposit fuck fuck fuc—) the two dead bodies beside me.
          If I failed in that investment; who is to say my teddybear wedding church isn't next?
The sniper must of considered me a hostage as to not yet shoot; I thought this would be my advantage and the final folly in their pathetic life, but it turned out that the only thing that would fail me where the chains binding what was once my stoic frozen heart.
When I instinctively writhed atop Lesbonix at the sight of death, he reacted not to the stream of urine, but to my newly discovered cross-species body communication system and bucked, sending me falling to the mud front-ass first freeing me from the Asian Finger Trap binding I mean my many chain bonds (Asian Finger Trap was just a metaphor for the bindings my hands are eternally bound in because of, because my hands feel forever bound by, lets just say it can be clearly metaphorically articulated in image *04a).
[ERROR*04a.JPG FILE NOT FOUND ON THE INTERNETS]
I stared to see the blowhard of a marksman (not really a marksman seeing as the marksman was quite close and was using a map to navigate the minefield. What a cartographicationist blowhard, such uncouth behavior for a fellow cartographication enthusiast to so flagrantly flaunt their catogriphication skills in public) and found that the shooter was not a taker of lives, but a taker of hearts.
Drab of denim and plaid, cap of camo and NASCAR, hunting rifle of steel and plastic camo; she was straight of my dreams. But not the dream where Denis and I finally go to spend some quality time together where we see a movie, go to some place that sold both hamburgers and pizza-bagels at varying times of the day, walked around awkwardly at the mall not talking since we may bring up politics and I don't want to ruin the possibility of true friendship with my harshly worded views on heavy taxation hurting the Lithuanian porn industry, shooting the mall security guard, and then we both decide subconsciously to try and not hang out with each-other anymore because we just don't really bond unless we are committing a crime; and when you already do what you both love for work, why do it for free?
  That dream was oh-so wrong: DO IT FOR FRIENDSHIP
She, SHE was a stunning woman that I must tame as a love slave. And before you oh-so-foolishly call me sexist, understand that I obviously implied through capitalization of key words that we switch roles as the slave on alternating weekends. Unlike you I am a progressive gentleman.
       I recently replaced my rusty chains. Therefore; Progressive
Suddenly, she spoke. I think. Like a choir composed of several more intricate choirs that have singers that sing in one of the few foreign speaks that I do not happen to already be a complete master of or one of the many many languages I didn't actually know existed. Her body language however I could speak, and that I could best deduce as a frantic running, confused shouting, and a complicated mating dance that to a mortal fool's eyes housed no-sexual body movements or prolonged eye contact whatsoever.
  If you look carefully Timmy, you can just make out dat' swag
Alas; if only those I pity could see the things that I do. And here she came to me lost in the minefield of life; my damsel in distress, my bitch in heat, the only thing I ever wanted to find in a patch of land completely coated in almost as many explosives as a March of the Penguins sequel directed by Michael Bay and narrated by Eddie Murphy.
If you have an idea as good as mine; shoot for the stars kid
Now she was close. What would I do? What would I say?
All I knew was that volunteering to lead a horseback tour of the scenic hills outlining Dübendorf after being exiled to Switzerland must of been my destiny! She was but a few paces away, I popped a handful of acid tablets I got from Denis for organizing his grandson's After-Christening party and accepted whatever destiny my heart has lain out for me; I couldn't mess this up!
 I may not understand the language of her tongue,                                                                     But we all know the language;                                                              the language of love…
I awoke midst a carnal mirth of cheering and a fervor of boisterous chanting, aloft in the air floating atop hundreds of flailing and tattered arms. The smell of burning oil, rendered flesh, and a poignant sense of the same decrepit sadness and desperation that has fueled my overwhelming penchant for literary erotica signified to me that I had been in an intoxicated trance for a period of time far exceeding eighteen months, I was a slave aboard an oil rig in the Gulf of Thailand, and I was King of the Slaves. 
                                           I would have also accepted the title; Party Princess
Although we had already massacred our 'captors' aboard the rig, our enemies had not yet surrendered and accepted their inevitable demise. The encircling aircraft carrier was beginning to scramble their bomber squadron; but even thorough all this I did not panic. I just instinctively knew what I had to do. My blood brothers set me down and looked longingly into my eyes as I spoke what I hope was a valiant speech in some sort of tongue unknown to my 'infinite' wisdom. They all applauded and cheered when I think I ended what I think was a speech and with a flawlessly coordinated song and dance routine, my people made their way over to the anti-air batteries we had built out of the washing machine and whatever we found in D wing's rec room.
I strode over to the makeshift-helicopter that would function as a boarding party consisting of myself, my first mate, oil drums filled to the brim with crude oil based vodka, and my sixth mate.
                                              I call it thoughtey-makey vitamin water
Our genius tactical maneuver would carve our names and bodies into the aft-section of the carrier and into literal and metaphorical fields of victory. As we began to lift above the burning carrier and I saw my slave brethren saluting me with a Broadway-grade tap dance while simultaneously and effortlessly shooting down the first of the stealth bombers to come within range I coyly thought to myself:
                                      I am a such a pretty gosh-darn great leader